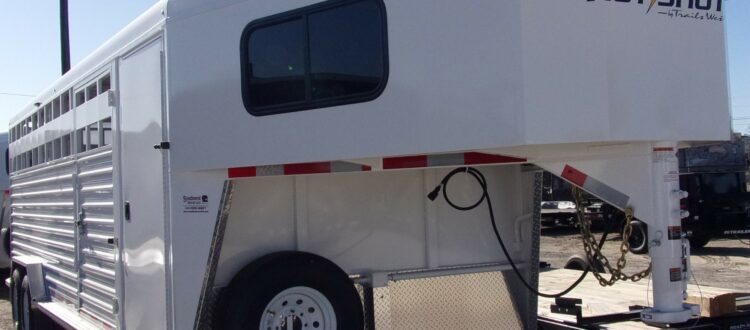 2023 TRAILS WEST HOTSHOT GOOSENECK STOCK COMBO TRAILER 7.6′ X 24′ – $25,507 (STOCK #8351)
CASH PRICE (DISCOUNTED) $24,526
CREIT CARD PRICE $25,507
SUGGESTED RETAIL PRICE $26,161
***WE DO NOT ACCEPT PERSONAL CHECKS***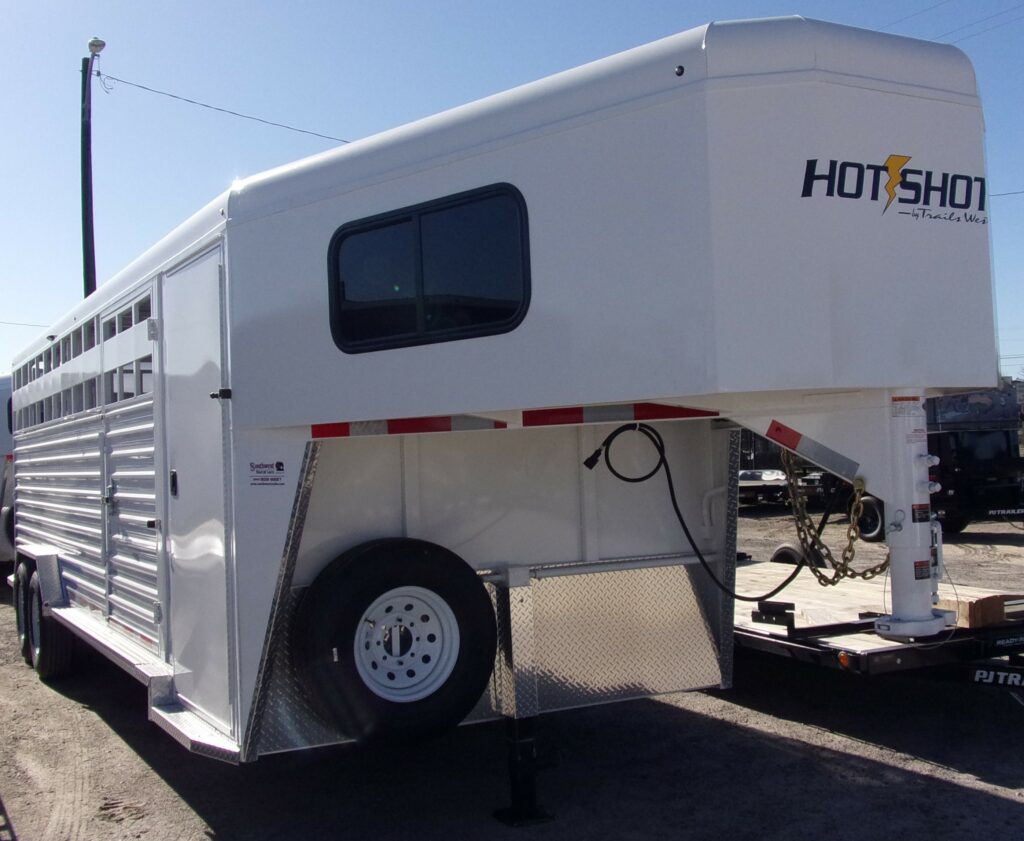 THIS TRAILER FEATURES UPGRADES:
FLOOD LIGHT – REAR
FLOOD LIGHT – REAR
HOT SHOT WHITE PAINT COLOR
SPARE TIRE 16″ 8-LUG LRG ON WHITE
STANDARD FEATURES:
Aluminum One-Piece Roof
Electro-Galvanized, Corrugated Steel Sides
7'6″ Wide, 7'0″ Tall
Slam Latch Rear Gate with Slider
Aluminum Tread Brite Front
Full Aluminum Side Steps
Aerodynamic Bullet Nose
54″ Side Gate on Passenger Side (open stock only)
Gooseneck Calf Gate
Torsion Axles with Easy-Lube Hubs
Radial Tires
Rubber Bumper
2″x 10″ Douglas Fir Flooring
4 Wheel Electric Brakes
Choice of Gray or White Paint Color
Acidic Phosphatizing Wash
Polymer Coating
Epoxy Primer
Infrared Cured Polyurethane Paint
One Year Limited Paint/Trim Warranty
Five Year Limited Structure/Floor Warranty
AVAILABLE OPTIONS
Additional Center Gate (24′ & 28′ Only)
Spare Tire
Rubber Floor Mats
Flood Lights
Stainless Steel Front
Roof Vents
Plexiglas Air Gap Enclosures
Enclosed Rear Gate
Solid Rear Gate (no slider in gate)
Swinging Angle Wall Tack Package
Sort Gate in Center Gate
Sealed Straight or Slant Tack Package *
*All Sealed Tack Packages Include: Non-sliding, solid rear gate.
STRAIGHT TACK PACKAGE* INCLUDES
Sealed Straight/Angle Tack Wall
Tack Door on Curb Side
Cross Gate in Stock Area (not available on 16′)
4-Place Stationary Saddle Rack
Optional Swing Out Saddle Rack (sealed tack only)
12 Bridle Hooks
2 Blanket Bars
Screen GN Windows, Each Side
Carpet GN Drop and Deck
Solid Slam Latch Rear Gate (slider optional)
SWINGING/SEALED SLANT TACK PACKAGES INCLUDES
Swinging/Sealed Angle Wall
Slant Gate
4 Tier Saddle Rack
Optional Swing Out Saddle Rack (sealed tack only)
12 Bridle Hooks
2 Blanket Bars
Dome Light
Combination Rear Slider Gate (Swinging Tack Pkg.)
Solid Slam Latch Rear Gate (Sealed Slant Pkg. – Rear Slider is optional)
24 FT. OPEN STOCK
GVWR 14980# UNLADEN 6150# PAYLOAD 8830#
VIN# 49SS7322XPP050693 STOCK #8351
*Advertised prices do not include sales tax, vehicle registration fees, other fees required by law, and any finance charges. Price and availability of unit is subject to change without notice. Cash = Actual Cash, Cashier's Check, Debit Card and Wire Transfer.
While every effort has been made to ensure accuracy, Southwest Trailer Sales assumes no responsibility for typographical or pricing errors. Please speak to a sales representative to verify any questionable information from this document before your purchase.