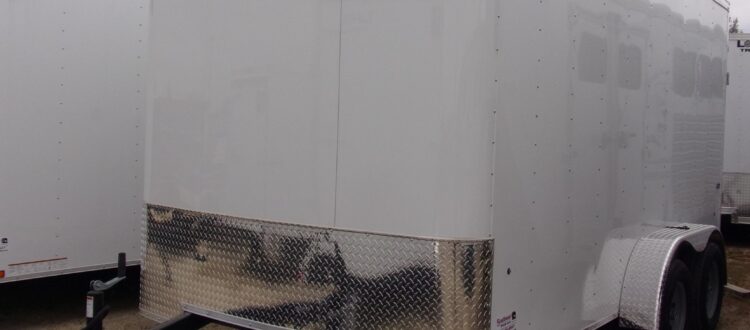 2023 LOOK ENCLOSED CARGO (ELEMENT) 7′ X 14′ (STOCK #8420) **ON SALE** ORIGINAL PRICE OF $9,907 REDUCED TO $9,359
CASH PRICE (DISCOUNTED) $8,999
CREDIT CARD PRICE $9,359
SUGGESTED RETAIL PRICE $10,288
***WE DO NOT ACCEPT PERSONAL CHECKS***
MODEL: LSCBA7.0X14TE2FC
THIS TRAILER FEATURES:
STYLE: STLC CARGO / FLAT TOP / ROUNDED FRONT
AXLE: TANDEM/DROP/ELECTRIC
AXLE TYPE: (2) 3500# SPRING w/SUPERLUBE HUBS
TIRE (4) ST205/75R15 5 LUG RADIAL
RIM: (4) SILVER MOD
MAIN FRAME: 2 X 4 TUBE w/ZXMs 24″ ON CENTER
MAIN FRAME: UNDERCOATED
COUPLER: 2 5/16″
HITCH: 2 PIECE
JACK: 2000# TOP WIND w/SAND PAD
VERTICAL POST: 84 3/4″ V.P.H. **12″ ADDED HEIGHT ***UPGRADE***
SIDEWALL: 1 X 1 1/4 TUBE /16″ CENTERS
ROOF BOW: 1 X 1 1/4 ROUNDED BOW 24″ ON CENTERS
FLOOR: 3/4″ HIGH PERFORMANCE
WALL: HIGH PERFORMANCE ***UPGRADE***
CEILING: NONE
EXTERIOR METAL: .030 WHITE
STONEGUARD: 24″ HIGH ATP .025 EMBOSSED
FENDER: SMOOTH TANDEM
ROOF: 1 PIECE ALUMINUM
ROOF: 24″ WIDE 2.7 LAUAN RIDGE BOARD
LICENSE PLATE BRACKET: MOLDED PLASTIC
REAR HOOP: SAME COLOR AS TRAILER
BOTTOM TRIM: 1 1/2″ BOTTOM TRIM
TOP TRIM: 2 1/2 "
REAR DOOR: RAMP DOOR w/SPRING ASSIST & (4) ROPE RINGS IN THE CONERS OF THE TRAILER FLOOR ***UPGRADE***
SIDE DOOR: 32W X 78H C/S/ *FLUSH LOCKS* w/PLASTIC HOLD BACK AND DRIP RAIL START 16″ FROM FRONT ***UPGRADE***
14 X14 N/P ROOF VENT WITH SCREEN ***UPGRADE***
CLEARANCE LIGHTS: BULLET LED RED/AMBER LENS
TAIL LIGHT: (2) LED RED LENS SLIMLINE w/INTEGRATED BACKUP LIGHT
DOME LIGHT: (1) LED DOME LIGHT (CENTERED)
CABLE: 7 WAY
LICENSE PLATE LIGHT
BREAKAWAY: BREAKAWAY BATTERY w/SWITCH
Standard Features
4′ – 8.5′ Wide
Lengths from 6′ – 14′
Flat Top with V-Nose Front
Round Top with Radius Front
Single and Tandem Axle
High Performance Side Walls
Aluminum Fenders
Aluminum Framed 32″ Door with Flush-lock on 6′ and 7′ Wides
Ramp or Single Rear Door on 4′ and 5′ Wides
Ramp or Double Rear Door on 6′ and 7′ Wides
Unlimited Options
Limited 3 Year Warranty
VIN# 5JW0E1426PF045755 / STOCK #8420
*Advertised prices do not include sales tax, vehicle registration fees, other fees required by law, and any finance charges. Price and availability of unit is subject to change without notice. Cash = Actual Cash, Cashier's Check, Debit Card and Wire Transfer.
While every effort has been made to ensure accuracy, Southwest Trailer Sales assumes no responsibility for typographical or pricing errors. Please speak to a sales representative to verify any questionable information from this document before your purchase.